If your view on vacation is "the more the merrier" you need a travel trailer with as much sleeping space as possible.  There is a great answer to all of you people packing problems.  A bunkhouse.  It's comfy, it can sleep 2-4 more people, and you don't have to leave any friends or family members at home!
Here is a brief synapses of our top three choices for travel trailers with bunkhouses:
Palomino Puma-This travel trailer is a great choice for a family.  With a queen size bed for mom and dad, two bunks and a convertible bed for the kids.  There are plenty of other amenities including a bathroom with tub and toilet and a kitchen with refrigerator, two burner stove and plenty of cabinet space for your s'mores supplies.  The Puma travel trailer is a great place to spend quality time with your family.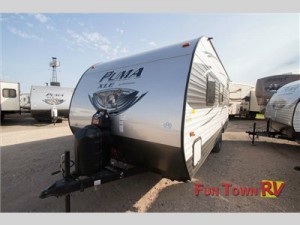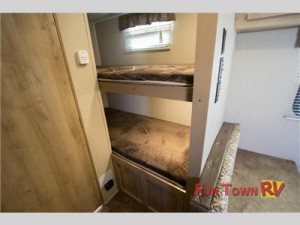 Gulf Stream Kingsport-There is plenty of sleeping space in this travel trailer.  There is a queen size bed and a set of double bed bunks.  A spacious dinette across from the kitchen is a great place for dinners or maybe a competitive game of cards.  It also converts into another bed for extra sleeping space.  With a private tub and shower, a great kitchen, and all the storage you could ask for, the Kingsport travel trailer is a great way to get away!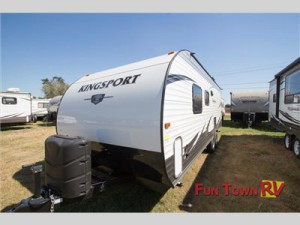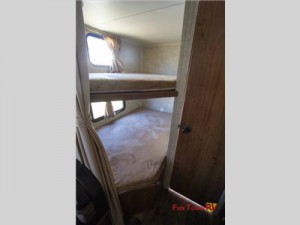 Forest River Wildwood-The largest of the bunkhouse travel trailers will have you grabbing your phone to invite more friends on your next trip.  With room to sleep 9 people, this bunk house has three bunks with a booth table that converts to another bed.  With a u-dinette and a great kitchen, meals will be a snap.  There is also a fully loaded bathroom for everyone to get clean.  Everything you and your guests need to relax and have fun is available in the Wildwood travel trailer.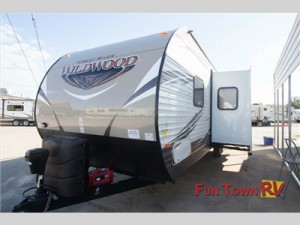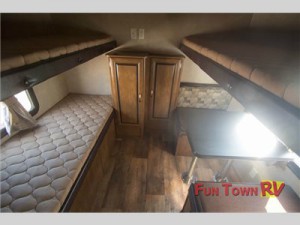 Choosing a bunkhouse travel trailer is not easy, but it will be a lot of fun!  Contact us today for the full run down of all of our available travel trailers with bunkhouses.  There is sure to be one that is perfect for you!