Find unique style and superior comfort in the Forest River R-Pod travel trailers for sale here at Fun Town RV-Houston! There amazing campers are designed for comfort as well as beauty that will turn every head. Let's take a closer look at everything you can enjoy on your next trip to the campground in this Forest River R-Pod travel trailer review.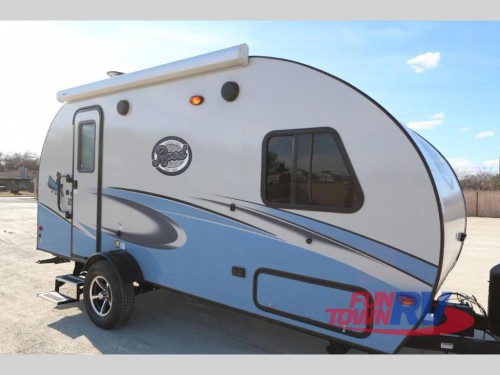 Comfort While Traveling
One of the most incredible things about the Forest River R-Pod is that it actually features the lowest tow weight in its class. The benefit of lighter weight campers is that they offer all of the same features in a model that can be towed much more easily with smaller vehicles. This plus the unique, aerodynamic design will come together nicely to make it one of the easier travel trailers to tow and make every mile more enjoyable.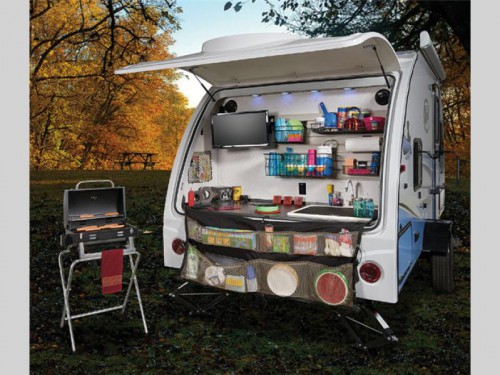 Comfort Outside
Once you have reached your campsite, there will be lots of amenities to provide you with more ways to spend time outside. With certain R-Pod floorplans, you will find a rear garage complete with hatchback opening where you can enjoy cooking outdoors as well as more entertainment on the TV located here. And when you choose get the optional R-Dome awning and screen room, you'll have a shaded, protected space to sit back and relax in the nature around you.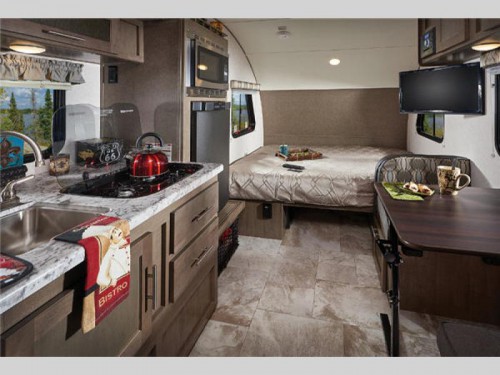 Comfort Inside
These comfortable features carry on right through the entire interior of this travel trailer. Find a full kitchen in most models including seamless countertops as part of the Camper Friendly Package. You'll have enough sleeping space for up to four people, and with options having a full or combination wet bath, you'll have everything you need right within reach.
With all of this and more, you will want to check out our Forest River R-Pod travel trailers. To find out more about these beautiful and luxurious towables, make sure you contact us or come on by our locations today!