Hurry down to our location where you can see the newly arrived Cruiser South Fork fifth wheel! This luxury fifth wheel from Cruiser has been exclusively released on our lots here at Fun Town, and you will not believe what it offers!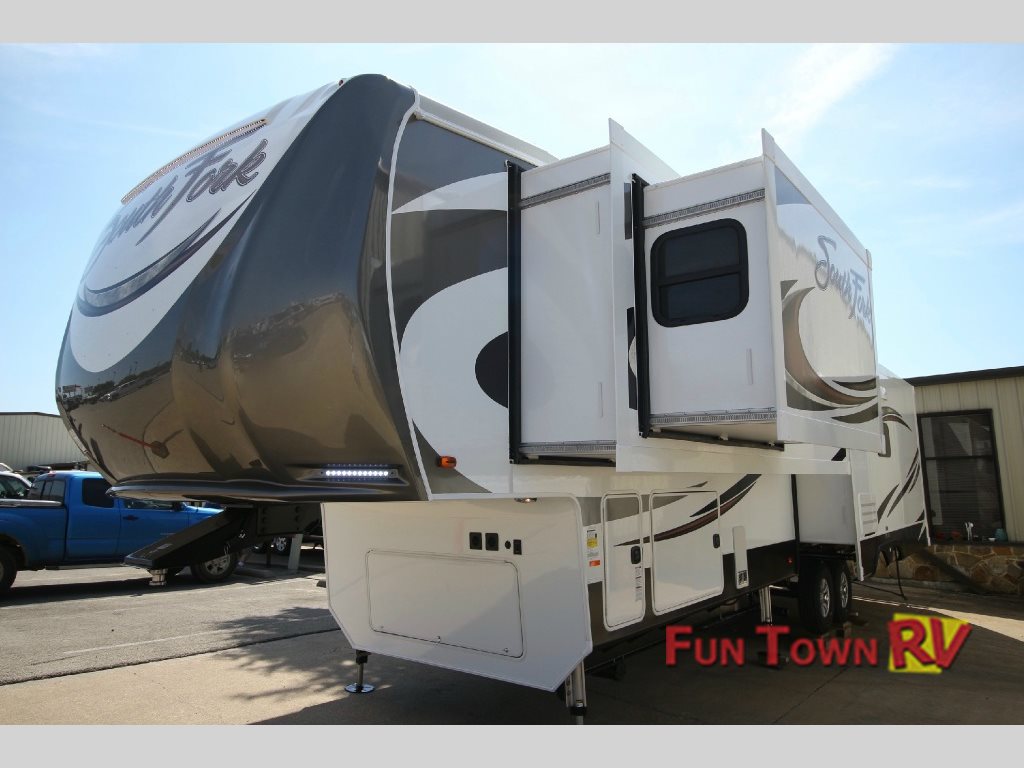 With models featuring multiple slide outs, the interior of every Cruiser South Fork will be spacious and give you amenities that will be the epitome of deluxe living. As soon as you step inside this fifth wheel, you will immediately see what makes it an incredible vehicle.
Some of the interior features included are:
Storage Space: Each South Fork RV comes with numerous places where you can store your items easily. Everything from floor to ceiling cabinets to huge wardrobes for hanging up your clothes will make it easy to bring everything you need for a perfect RVing experience.
Comfortable Furnishing: The furniture included in these fifth wheels will take you to the next level of comfort. Depending on the model, you can have sofas, dinette sets, and reclining sofas to make space for everyone to relax, and with a queen size mattress on the master bedroom, you can enjoy uninterrupted sleep each and every night.

The interior has space for everything you need.

Large Kitchen: In the kitchen, you will see residential size and quality appliances. Many models offer stainless steel appliances and stylish cabinets to give the interior the modern design you want. You can also have an island to give you even more counter space for preparing all of your meals.
Extra Amenities: The Cruiser South Fork will also give you a few extra amenities that will make your trips more enjoyable. For instance, multiple flat screen TVs allow you to enjoy entertainment when the weather outside is bad or even when you just wish to watch a movie before bedtime. You can also expect these fifth wheels to have at least one electric fireplace to help keep you warm and toasty on cooler evenings and create the ambiance of luxury.

Large LED TVs and electric fireplaces add luxury and fun to this RV.
Because the Cruiser South Fork fifth wheel is something you must see and it can only be found at Fun Town RV. So be sure to contact us and find out everything this RV will offer you and see what you can do to drive home with one today!