In terms of luxury, the Boss 4290 RV from Cruiser will not be beat. Every inch of the interior will have quality and extravagance written all over it, and you will not find a better camper to take your RVing trips to the next level!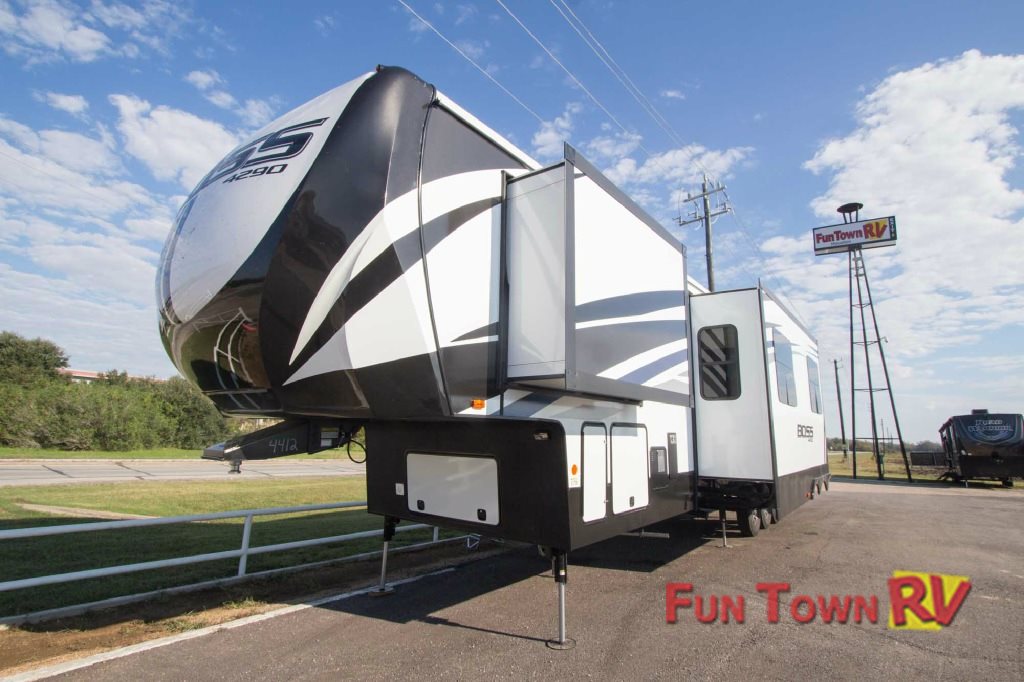 One of the main things about the Cruiser Boss that many people love is that it is not just a fifth wheel, but it is also a toy hauler. That means there is a ramp connected to the back that leads to a rear garage area where you can store any outdoor toys that you want to use while traveling. Then, when you have parked, this area can be converted to an indoor/outdoor seating area.
Amazingly, the amenities do not just include the toy hauler garage, so let's take a look at the interior to see all of the benefits there:
Entertainment: You can expect to find many ways to enjoy the entertainment in your life. For example, the living room will feature two large flat screen televisions that will be connected to a stereo system you can control from your smartphone. You will also find a television in the master bedroom, and some models will even have one located outside for you to enjoy while sitting in nature.
Residential Quality Kitchen: Every surface and appliance in the Boss 4290 will be of the highest quality than you can find anywhere. The solid surface countertops with an undermount stainless steel sink gives a perfect space for preparing your meals during your vacation. And with all stainless steel appliances, the design will be modern and will rival any residential kitchen for style.

Amazing appliances complete the perfect kitchen.

Large Bathroom: The bathroom will be complete with a toilet, shower, sink, and storage cabinets. The spacious design will give you plenty of room to comfortably take care of all your bathroom needs without ever needing to leave the RV.
Comfortable Master: Once you reach the master bedroom in this Cruiser fifth wheel, you will not want to leave. From the pillow top mattress to the ducted A/C, the entire area is meant to keep your comfy and resting any time of day or night.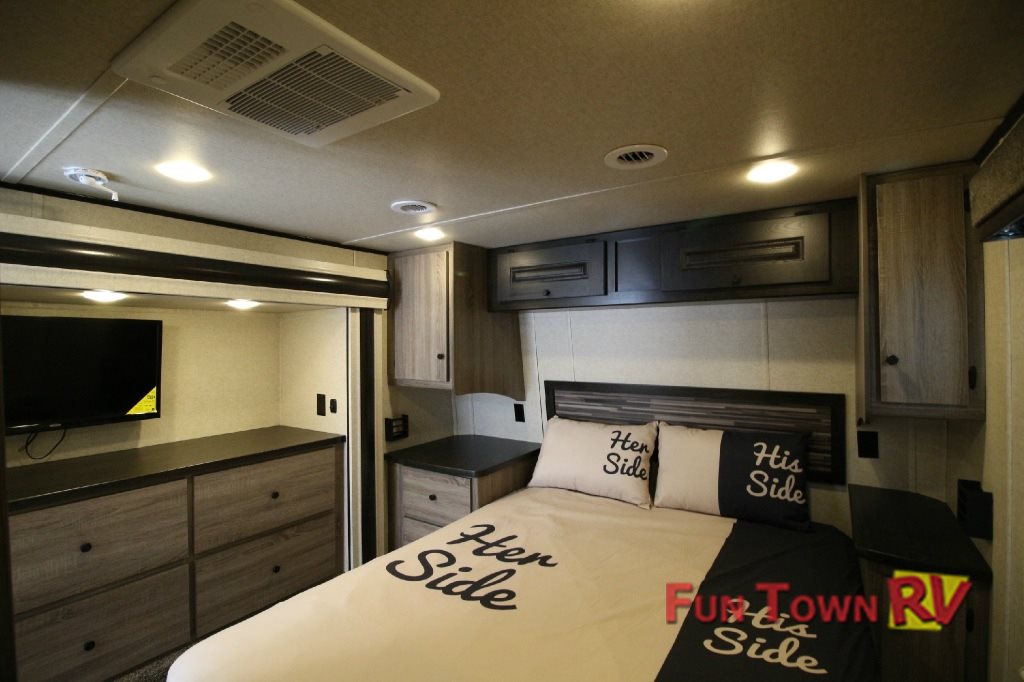 With the Cruiser Boss, you can get the luxury and comfort of a fifth wheel with the resourcefulness of a toy hauler. This way you can enjoy every minute of your RVing trips whether you are staying at the campground for some R&R or riding around on your ATVs.
Contact us if you want to talk about how you can enjoy both sides of your RV vacation, or feel free to come on down to our location. We know once you take a look inside one of our RVs you will ready to drive home with one.